Stump Grinding throughout East Anglia
Our team are fully qualified and insured, they are able to work in hard to reach areas, confined spaces and on difficult terrain, including marshland, banks and unstable ground.
Tree stumps are removed using stump grinders which grind the stump into chippings, effectively destroying the tree root. We use the latest narrow access equipment to remove stumps and surface roots with the minimal amount of ground disturbance.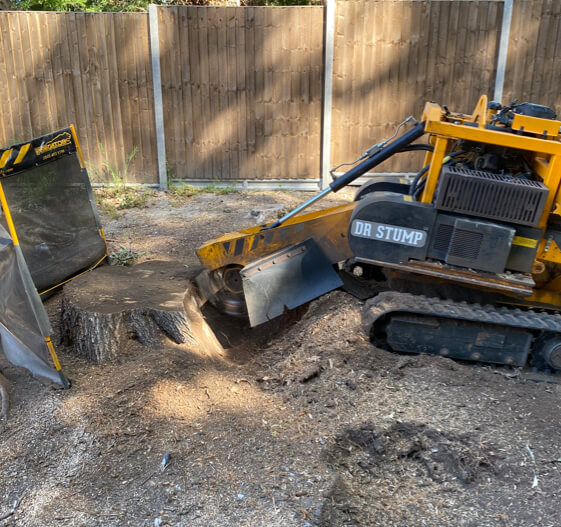 Low Waste
The waste from the stump removal process naturally mixes with the soil, this is left on site to back fill the hole with. We advise not to remove it from site so as to protect other sites from the transfer of pathogens. However, we can dispose of arising at an added cost, this would be separate on your quotation.
How we remove stumps
Using state of the art machinery, we take the height of the stump to the depth below the surface which is required, usually 30cm (1ft) beneath ground level. We always remove the whole of the root ball to prevent regrowth. Where appropriate, we use protective boarding and other equipment to protect and prevent scattered chippings, leaving the area clean and clear.
Eco Friendly
We are certified to protect the natural environment and we use ecologically friendly fuels and lubricants including ASPEN fuels.
Low Waste
The chippings are mixed with the soil and this 'mulch' can be used in and around the garden or disposed of at a later date. we do not remove from site unless specified by the client.
Modern Machinery
Our machinery is maintained to the highest safety and operational standards and is serviced daily. meaning a safer environment for our operatives and less downtime and breakdowns.
Honey Fungus
When tree stumps and dead wood are left, they can attract fungal infestations such as Honey Fungus which is often referred to as 'the gardener's nightmare' for its destructive nature on neighbouring trees and shrubs.
Ready for replanting
Whether replanting or reseeding We grind the tree stumps and surface roots so the area is left ready for or further redevelopment. a service we also offer!
Quick, Professional and Efficient
We can remove the smallest to the largest of stumps and our prices are dependent on the location, size and number of stumps to be removed.
FAQ about tree root removal
What happens to the chippings that are left?
When we've completed the root removal any chippings that are created will eventually rot down and release nitrogen back into the soil. Chippings make an excellent mulch, creating a protective layer and slowly releasing moisture back into the ground.
Our minimum charge is £75 but all prices are site and job specific. We offer quotations for your convenience. For a speedy response contact our team via Whatsapp with photos and further details and we'll get back to you shortly.
No, if you're happy for us to gain access to your garden, we require no power, water etc from the site and are fully self-sufficient.
Depending on the species of tree, some can regrow if not removed properly. We always remove the root ball to eliminate this problem. However, we offer a free recall service just in case!
I have a stump that is right up against a wall?
Whilst most stumps can be removed within a few millimetres of a wall without damaging the brickwork, it is not always possible to get the root system out due to the footing.
How much mess will be left?
We always tidy up after the job is complete, there will only be the arisings left on site in a heap where the tree once grew. most of the time the area is flat as the grindings go back in the hole.