Leading Tree Surgery in Norfolk
As a Norfolk tree surgeon, we provide emergency and remedial works to make areas safe from dangerous trees and obstructions. A comprehensive risk assessment is undertaken for all tree care and felling works.
The risk assessment also outlines how we manage obstructions such as overhead utilities, public and private highways, buildings etc.
Warning signs and cordons are deployed to shut off any public areas. Tree felling is carefully planned and inclement weather conditions taken into account.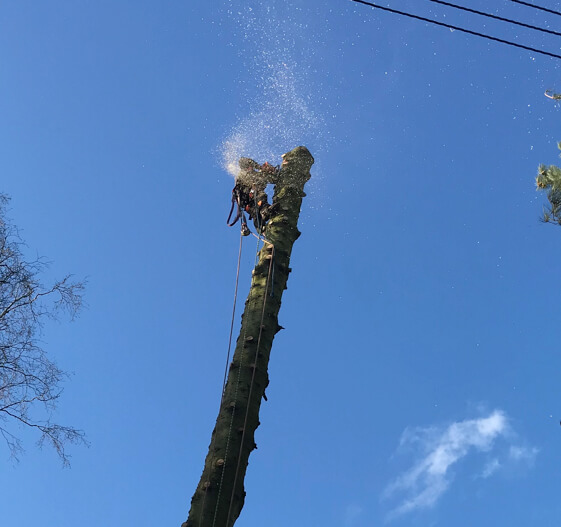 Conservation and TPO Trees
If your tree is in a conservation area or has a tree preservation order (TPO) applied to it, as qualified tree surgeons we can liaise with the local authority and their tree officer on your behalf.
We can apply for the planning application or simply undertake the resulting works once planning has been obtained.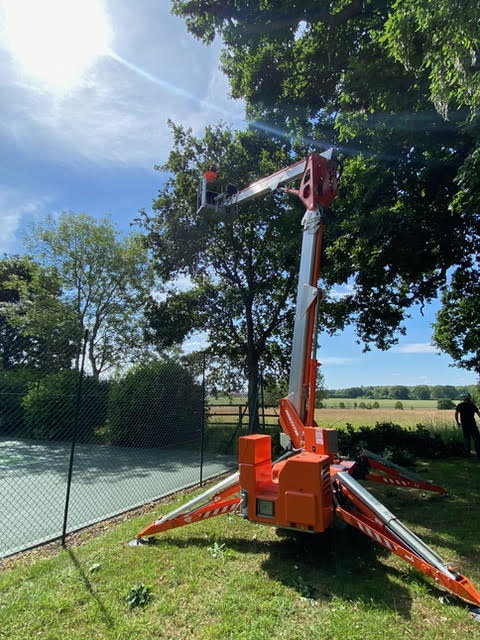 Tree Surgeons
Tree cutting and removal of wind-fallen trees and branches is carried out using specialist cutting and safety equipment, for example: sectional dismantling which is the process of removing branches from a tree in a safe and controlled manner using certified techniques and industry specific ropes.
Formative tree pruning is sometimes necessary with some species to create a clear trunk and a well-spaced canopy of branches.
Crown Reduction
Tree crown reduction is the process of removing branch tips, pruning back to a growth point further down the branch. not often exceeding 100mm (4")
This may be carried out to remove dead, diseased and damaged branches, or simply to reduce the overall size of the tree it does not always mean an asymmetrical finish is achieved – improves light and reduces shadowing.
Pollarding
Pollarding is a method of pruning that keeps trees and shrubs smaller than they would naturally grow. It is normally started once a tree or shrub reaches a certain height, and regular pollarding will restrict the plant to that height. The initial removal of the top of a young tree at a prescribed height to encourage multi stem branching from that point, or "bolling".
Crown Lifting
Crown lifting is the removal of the lowest branches. Crown lifting should not normally include the removal of large branches growing directly from the stem as this can leave large wounds which can become extensively decayed jeopardising the trees health. – improves clearance for access and prevents damage to vehicles and the tree.
Crown Thinning
Crown thinning is the targeted removal of a specified (upto 30%) amount of smaller/tertiary branches, often at the outer crown, to produce a uniform canopy around an evenly spaced branch scaffold. It is mostly applied only to broad-leaved species -improves light penetration without reducing the height and stature of a tree.
Crown Cleaning – Deadwood Removal
This refers to the removal of dead, dying or diseased wood in the tree's crown. It also involves attention to snags or re-pruning of branch stubs, unwanted climbing plants and accumulated wind-blown debris. Usually undertaken for safety reasons, dead wooding a tree prevents the failure of deceased branches. This prevents damage to cars and improves safety of the tree in high footfall areas.
Felling and Sectional Dismantle
Whilst we always try to maintain a healthy tree and environment, often a tree has been planted in the wrong location, is diseased or declining or is unsafe. Removal can be done by a qualified tree surgeon with felling on certain site but often by sectional dismantle using climbers or a mobile elevated work platform (M.E.W.P).
Frequently Asked Questions
How much will it cost to cut my tree down?
All projects vary so much it's impossible to quote without additional information. However we offer quick hassle free no obligation quotes via Whatsapp. Or alternatively you can give us a call or send us an email.
I live near a busy road, how will traffic be affected during tree works?
We will liaise with highways to safely carry out any arborist works required. We always ensure the safety of the public, our staff and the clients property before anything else. You know you're always in safe hands with our team.
A tree preservation order is an order to protect a tree, group of trees or woodland in the interest of amenity. This order is made by a local planning authority. If you wish to discuss the removal of a TPO then we can liaise with your local government on your behalf.
Will your tree surgeons create a mess?
We pride ourselves on always going the extra mile with ensuring that we leave a property in a clean and tidy manner. Keeping site safety is paramount and therefore maintaining a tidy area is important for both staff and members of the public. Tree works are carried out with a balance of what is best for the owner and environment.
Do you have any environmental policies?
We use Aspen fuel with all of our machinery to ensure we use the cleanest fuel source available to us. Aspen is a clean fuel and even helps improve the longevity of our machines. This ultimately ensures our tools have the power and reliability to complete tasks on time, with the added benefit of knowing our employees are not breathing in excessive fumes and being safer for the environment. We're also committed to supporting the local wildlife, we are proud partners with the Norfolk Wildlife Trust, and the Bat Conservation Trust.